NEWS
2022.04.01
3rd Single「The Revelation」配信リリース決定。ジャケット写真も公開
ODDLOREの3rd Single「The Revelation」が4月15日(金)に配信リリースとなることが決定。
各種音楽配信サービスでのPre-add/Pre-saveも開始しました。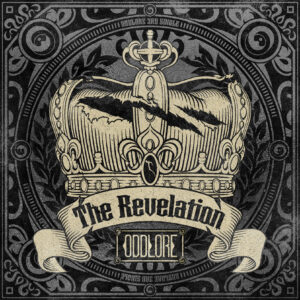 ■「The Revelation」各種音楽配信サービス Pre-add/Pre-save受付中
https://oddlore.lnk.to/TRVN
「The Revelation」はODDLOREのメンバーでリーダーでもある〝KOYA〟にフォーカスした楽曲。
作詞を、音楽原作キャラクターラッププロジェクト『ヒプノシスマイク –Division Rap Battle-』などへの作詞提供をおこなっているほか、
クリエイティブ集団soulflexでも活動するヒップホップミュージシャンのMa-Nuが担当。
作曲を同じくsoulflexで活動し、SIRUPや向井太一など多くのアーティストへの楽曲提供をおこなうMori ZentaroとMa-Nuが担当します。
また、併せて公開となった配信ジャケット写真に描かれた〝朽ちた王冠〟は、KOYAを象徴するモチーフであることも明らに。
〝朽ちた王冠〟をモチーフとするKOYAの姿が楽曲でどのように描かれるのか──。配信リリースを楽しみにお待ちください。
ODDLORE's 3rd Single, "The Revelation" will begin streaming on 4/15!
"The Revelation" is a song focused on ODDLORE's leader, KOYA.
The lyrics were written by Ma-Nu, hip-hop musician and member of the creative group soulflex, who has also provided lyrics for the Hypnosis Mic – Division Rap Battle – franchise. With composition by Mori Zentaro, also of soulflex, and Ma-Nu, who have composed for STIRUP, Taichi Mukai, and many other artists.
Additionally, the art for the single depicts the "Hollow Crown"––a motif representing KOYA. It makes you wonder what implications that has for the side of KOYA we'll be seeing in the song, doesn't it? You'll just have to wait for the release to find out.
Connect with ODDLORE
—————————————–
■「ODDLORE」Official Site
https://oddlore.jp
■「ODDLORE」Official Twitter
@ODDLOREofficial
https://twitter.com/ODDLOREofficial
■「ODDLORE」Official Instagram
@oddlore_official
https://www.instagram.com/oddlore_official/
■「ODDLORE」 Official TikTok
@oddlore
https://www.tiktok.com/@oddlore?is_from_webapp=1&sender_device=pc
—————————————–