NEWS
2022.05.27
4th Single「SKIN DEEP」配信リリース決定!
ODDLOREの4th Single「SKIN DEEP」が6/10(金)0時に配信リリースされることが決定。
「SKIN DEEP」はODDLOREのメンバー〝RION〟にフォーカスした楽曲です。
併せて公開となった配信ジャケット写真に描かれた〝ひび割れた蹄鉄・馬〟は、RIONを象徴するモチーフであることも明らに。
〝ひび割れた蹄鉄・馬〟をモチーフとするRIONの姿が楽曲でどのように描かれるのか──。
配信リリースを楽しみにお待ちください。

■「SKIN DEEP」各種音楽配信サービス Pre-add/Pre-save受付中
https://oddlore.lnk.to/skindeep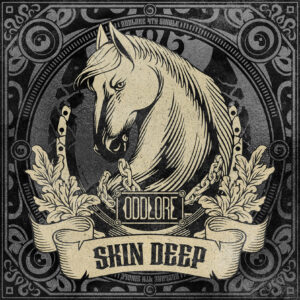 ODDLORE's 4th single "SKIN DEEP" focusing on RION will be available for streaming starting midnight on 6/10 JST!
Just how does the motif play into the song? You'll just have to catch the release to find out!
Additionally, RION's motif, a horse and a broken horseshoe, as depicted on the jacket art for the song has been revealed.
Connect with ODDLORE
—————————————–
■「ODDLORE」Official Site
https://oddlore.jp
■「ODDLORE」Official Twitter
@ODDLOREofficial
https://twitter.com/ODDLOREofficial
■「ODDLORE」Official Instagram
@oddlore_official
https://www.instagram.com/oddlore_official/
■「ODDLORE」 Official TikTok
@oddlore
https://www.tiktok.com/@oddlore?is_from_webapp=1&sender_device=pc
—————————————–